(SPOT.ph) The days of physically lining up to pay bills, transfer funds, buy stuff, and more are long gone-and we can't say we'll miss them. Mobile banking and virtual wallets are now the way to go! The second in particular has gotten even more popular as of late, as a convenient means of paying purchases from small businesses that have popped up in the past couple of months or for sending money to family, friends, and causes. If you're yet to try any of these services for yourself, we tried out some of the most popular options out there and ranked them based on usefulness, fees, user-friendliness, and security.
Also read:
10 Online Services to Try for a Cashless Existence
SPOT.ph Roadtest: Which Mobile Banking App Is the Handiest?
What are the best virtual wallet platforms right now? We rank them for you:
5. CLiQQ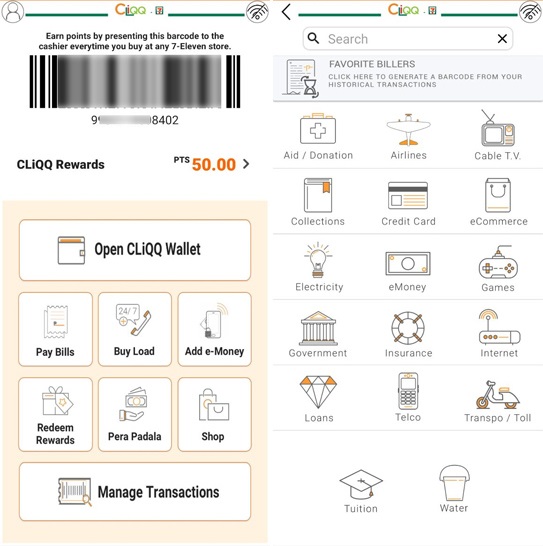 The lowdown: "I first used CLiQQ when I had to pay for airplane tickets at a 7-Eleven, but the CLIQQ kiosk was not working. The cashier suggested I download the app so they could scan the payment barcode from there. Once I registered and got the needed barcode, I had the option of still paying with cash or use the CLiQQ PAY Wallet. In terms of cashless transactions, the CLiQQ payment barcode and virtual wallet are fine-plus you get reward points every time you use it. But, if you want to run errands like paying bills, you will still have to go to the nearest 7- Eleven branch to get your CLiQQ barcode scanned-defeating the purpose of being able to do things virtually." - Christa
The verdict: Going digital is all about mobility, so unless you have a 7- Eleven right next door, this virtual wallet won't be the handiest one out there. The convenience store's digital wallet has all the multiple payment portals their in-store kiosks have, and if you choose to pay your bills here, you will still have to go out and pay at the cashier (yes, in a brick-and-mortar shop). You can pay cashless by loading up your CLiQQ account through GCash, PayPal, debit card, or 7- Eleven and earn rewards points through the app! Other than that, this wallet will probably be of most use to those who frequent 7-Eleven a lot.
4. GrabPay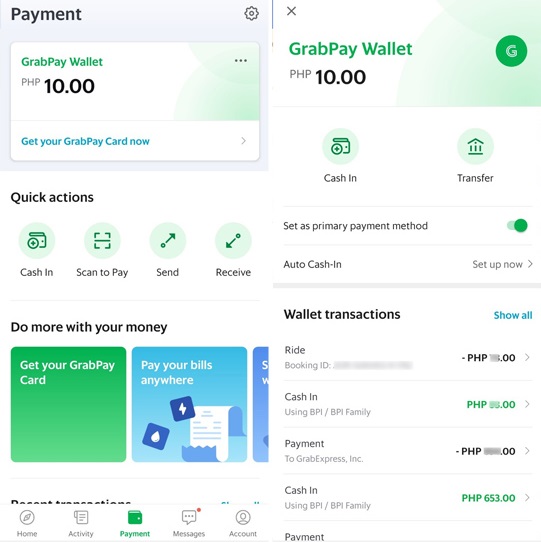 The lowdown: "As a regular Grab app user-from their delivery service to their GrabMart feature, especially during quarantine-I have found it very useful to cash in my GrabPay wallet and use that to pay for their services. All I have to do is to select the GrabPay option, instead of cash or credit, after I put in my order or service request. Unlike other virtual wallets, GrabPay allows me to pay only for services within the Grab app. This may sound limiting, but looking at all the services and merchants available, I realize that I pretty much already have everything needed. Plus, I can run all my errands from my phone-from paying the bills to having groceries delivered. GrabPay also lets me earn points, which I can eventually convert to promos and discounts like free delivery." - Christa
The verdict: The GrabPay wallet is integrated with the Grab app, so that would arguably be the main downside. On the brightside, the Grab app has a multitude of built-in services; aside from GrabCar, GrabFood, GrabMart, you can also use it to buy prepaid load, gift cards, and pay for hotel reservations on Agoda or Booking.com, and more. You can also cash in at no charge through SM Business Centers, 7-Eleven, Cebuana Lhuiller, or even through your GrabCar driver. You could also link your debit or credit card through the app. The only time you will be charged a fee is when you load up the GrabPay wallet through mobile banking apps, due to interbank transfers. Overall, the app is especially useful if you often use Grab for your daily tasks.
3. PayMaya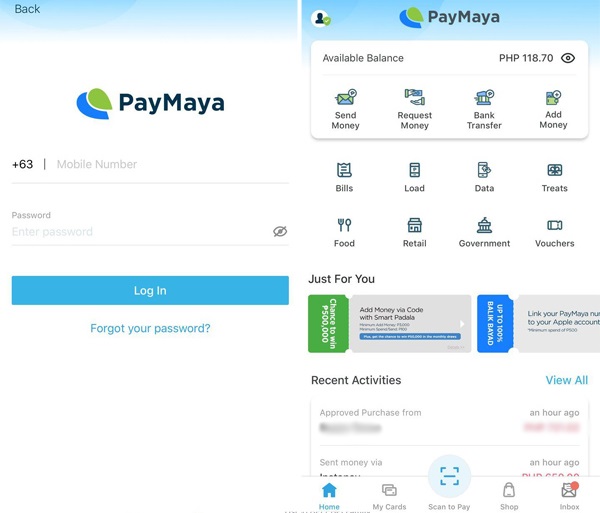 The lowdown: "PayMaya is really easy to use. You log in with a password or through touch ID, then select the service of your choice. I use it primarily as a credit card, and so far it's worked with just about every site I've tried (even ones from abroad!). You can also use it to transfer money to other banks, and as of writing there are no fees for doing so. You can cash in through channels like 7-Eleven and even Robinsons Supermarket; there used to be an option to cash in through a debit card but it's currently disabled for some reason so I just do so through my bank app (using Instapay). You can also easily buy load and pay bills, right from one app.
"My experience with PayMaya has been mostly positive. I do wish their customer service was better though. I don't think I've ever received a response with an actual solution in all the times I've emailed their support email, or chatted with their Messenger-I'm just lucky that my all problems so far have magically fixed themselves, but a response would be nice. Another issue is that there are times where I would issue a refund via the website I transacted with and it would take up to three or four days for it to reflect on my PayMaya account. Other than that, PayMaya is super useful." - Trish
The verdict: Probably the main use of a virtual wallet is to be able to complete transactions online-which is exactly what PayMaya does very well. You can use it to pay for utility bills, buy prepaid load, transfer funds to banks (with charges to be added starting November 1), and even pay for stuff from abroad through the product's site; plus, the app's easy-to-use design presents all the merchants in an understandable format. In a nutshell, this app will definitely help you get the job done-unfortunately, we can't say the same for their customer service if you ever do hit a snag.
2. GCash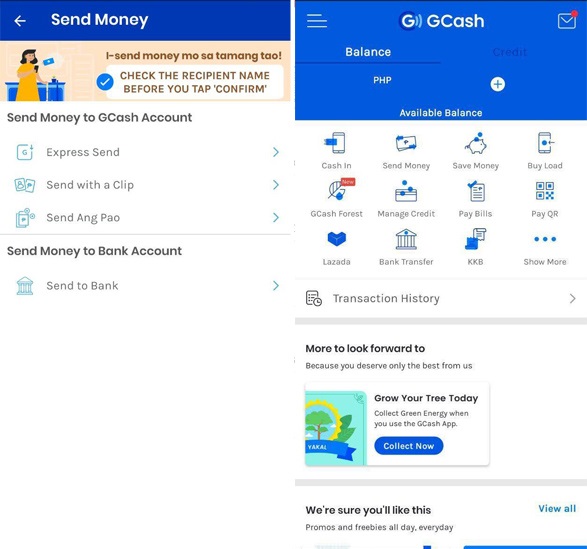 The lowdown: "I use GCash to pay for transactions with small businesses, transfer money to friends and family, as well as pay bills. I like how you can pick a card and add a short message to send to the recipient to go along with the money, and an option to send out a virtual Ang Pao (the money goes back to your wallet if your intended recipient doesn't claim it in 72 hours).
"GCash has so far been the easiest app I have used to pay bills. After you send money to a GCash user, there's also a download symbol on the top-right part of the screen that lets you save the image file as proof of your payment. It has the name, number, amount, and reference number, which is really handy since most sellers depend on screenshots to verify payment. In terms of security, a one-time-pin is needed for every transaction and for every time you start the app.
"My main gripe with GCash is that I sometimes don't get to receive text messages as proof of my transactions-and there are times when I don't get to see my current balance in real-time after having made a transfer. Thankfully, their hotline and the send-a-ticket feature on their site both work. Plus, their agents are extremely helpful!" - Mari
The verdict: GCash has things pat down in terms of the number of things you can do with your virtual wallet. There are a wide variety of services and transactions you can make through GCash, from paying bills, merchants, and even sending money to friends and family. And while the P15 fee for fund transfers to banks on November 1 has everyone abuzz, transfers between GCash accounts will remain free. Perhaps the only thing you have to worry about would be the app's consistency when updating your account balance and history-especially since this is hard-earned money we're talking about.
There's also the many features of the app; all the added options could either make or break your experience. GCash is arguably most useful if your goal with a virtual wallet is to pay for small business transactions and quickly transfer money to other GCash accounts, which has become rather common.
1. PayPal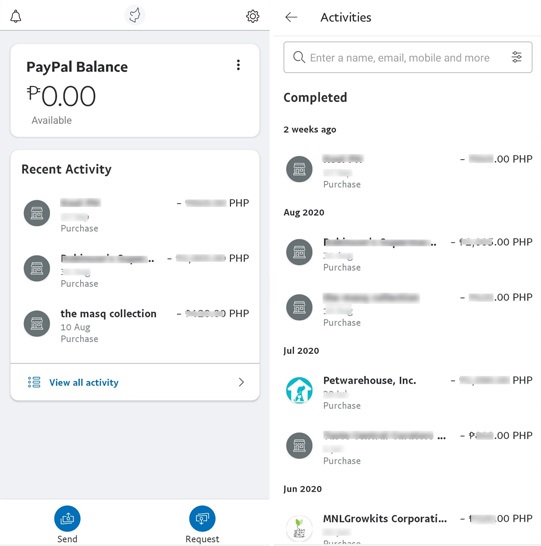 The lowdown: "I use PayPal to pay monthly bills for the New York Times and Netflix, among others. I also use it when shopping online-it provides an extra layer of safety so I don't need to input my credit card details into a site I may not have used before. Like most other online payment systems, you get a one-time pin or security code sent via SMS before a transaction goes through, but I feel a certain sense of security when using it because I know I can cancel a payment as long as it hasn't been claimed, or if it has, I can file a dispute to try to get a refund. It's also convenient that PayPal sends a monthly email with a receipt for the payments I've made-makes it easier to keep track of expenses." - Jo
The verdict: The keyword with PayPal is "straightforward." The streamlined service's main use is to help you pay for things online, whether retail websites or monthly bills, and it's a great alternative to having to input your credit card details whenever you check out online. Plus, you don't even really need an app to use their services as it essentially does the same thing as the site. There's the added bonus of being able to file a dispute as well, and even the ability to cancel payments up to 180 days after the transaction (as long as the money has not been claimed). All in all, PayPal tops the list thanks to its ease-of-use, consistency, and reliability.